Click to enlarge
Advanced Urology Course 2008
The Singapore Urological Association in conjunction with the Asian School of Urology under the auspices of Urological Association of Asia, held the Advanced Urology Course in the National University Hospital, Singapore. International and local Urology experts were invited to lecture on a spectrum of urological diseases.

Our two distinguished international speakers were Dr. Manish Patel from University of Sydney and Dr. Ganesh Gopalakrishnan from Christian Medical College, Vellore, India.

The course was well attended by over 40 participants from Singapore and the Asian region.
Tips and Tricks for Performing the Perfect Puncture during PCNL

Updated 20 Oct 09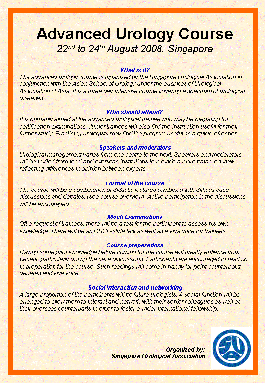 Dr Ho Siew Hong was invited to lecture on the following topic:
S H HO UROLOGY AND LAPAROSCOPY CENTRE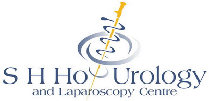 PCNL or percutaneous nephrolithotomy surgery is the surgery of choice for large kidney, staghorn or upper ureter stones. The challenge had always been in performing a good initial puncture to the kidney. An excellent puncture causes less damage to the kidney and allows better stone clearance.
In his lecture, Dr Ho shared his experience and some tips and tricks on performing a perfect puncture to the kidney during PCNL surgery. Careful planning prior to surgery is necessary. Details on the techniques of puncturing the lower and upper poles of the kidney were elaborated during the lecture.