Kidney Cancer






Partial nephrectomy or nephron sparing surgery is removal of only part of the kidney where the cancer is located. In the past decade, results of partial nephrectomy are proving to be similar in terms of cancer cure and control, when compared to traditional total nephrectomy. Tumours up to 5cm in size can be considered for partial nephrectomy.
Cancer in the upper part of the kidney was surgically removed


Kidney is repaired with surgical sutures
Partial nephrectomy can be performed with the open technique or by minimally invasive surgery (laparoscopy). Laparoscopy has the advantage of less pain and quicker recovery as the tumour is removed via 3 small puncture wounds on the abdomen.
Radio frequency ablation of kidney cancer can be performed for smaller sized kidney cancer in patients who cannot afford any kidney function loss such as in patients with a single kidney or with severe kidney disease. It involves placing a needle, which emmits high-energy radio frequency on its tip, into the tumour. The high energy causes destruction and ablation to the tumour without having to remove it from the body.
Radical nephrectomy or complete removal of the kidney may be necessary in large kidney cancer (more than 5cm) or cancer involving a critical part of the kidney or cancer that has invaded into the blood vessels around the kidney.



The radio frequency needle can be placed percutaneously via a small wound on the skin overlying the kidney. It's position is confirmed by ultrasound or CT scan guidance. For tumours that are located on the anterior (front) aspect of the kidney, the needle is placed with the assistance of laparoscopy. Three small incisions (5mm - 10mm) are made on the abdomen and the needle is introduced into the tumour under direct visual guidance from the camera of the laparoscope.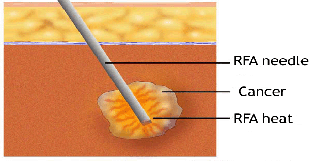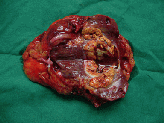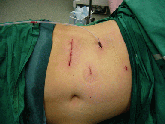 Large cancer occupying almost half the kidney
Tumour and kidney removed via small incisions after laparoscopy



CT Scan with 3-Dimensional Reconstruction showing a large cancer in the left kidney
Laparoscopic partial nephrectomy for kidney cancer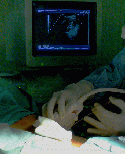 Ultrasound guided percutaneous radio frequency ablation kidney cancer
CT Scan showing a large cancer in the right kidney with invasion into the renal kidney vein and inferior vena cava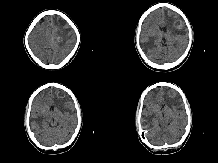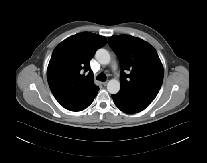 CT Scan showing kidney cancer metastasis to the brain
CT Scan showing kidney cancer metastasis to the mediastinal lymph nodes



Updated 12 Nov 09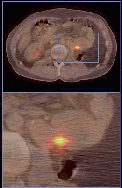 PET Scan showing recurrent kidney cancer after previous surgery - lump successfully removed surgically

S H HO UROLOGY AND LAPAROSCOPY CENTRE