Laparoscopic Prostatectomy
Laparoscopic prostatectomy entails removal of the entire prostate gland via a few small key-hole incisions. This done for patients with early and localised prostate cancer where cure is possible.
Laparoscopic (key-hole) surgery achieves similar results without the need of a long incision. The advantage of laparoscopy is that the incision is small and recovery from surgery and return to work is much quicker. The magnification under laparoscopy allows more accurate dissection and preservation of vital structures like the external urinary sphincter and neurovascular bundle. This translates to better urine continence and erectile function after surgery. The laparoscopic technique also results in much lower blood loss. The techniques of laparoscopic is technically more demanding and usually performed by an experinced urologist, trained in the area of advanced laparoscopic surgery.
S H HO UROLOGY AND LAPAROSCOPY CENTRE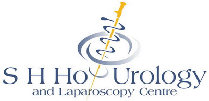 Surgery for early prostate cancer
Surgery for cure in early prostate cancer can be done by open surgery, laparoscopic prostatectomy or robotic assisted laparoscopic prostatectomy. Results of open surgery are well established. However, it done with a long surgical incision over the lower aspect of the abdomen. Such incision is usually more painful and recovery from surgery is slower.
Open surgery wound
Wound from key-hole (laparoscopic) surgery
Key-hole (laparoscopic) prostatectomy
Laparoscopic prostatectomy v/s Robot assisted laparoscopic prostatectomy
Laparoscopic prostatectomy can be done directly by the surgeon or with the assistance of a surgical robot. Robotic or robot assisted surgery has received much publicity. It assist the surgeon with 3D view and simplifies the stitching step of the surgery. Otherwise, it is exactly the same as laparoscopic prostatectomy performed directly by the surgeon. Robotic surgery has several inherent disadvantage as it does not allow dissection of the lymph nodes and usually necessitates entry into the peritoneum cavity. In addition, it is significantly more costly to perform as the capital cost of the robot as well as robotic consumables are always factored into the total surgical bill.
Laparoscopic extraperitoneal retropubic prostatectomy

Laparoscopic prostatectomy
What to expect during and after the surgery?
Our patients' stay in hospital is usually for 2 nights only. Pain is very minimal after surgery and can be controlled with oral medications. Food is resumed one day after surgery. A bladder catheter (rubber tube) will be placed at the time of surgery to assist passage of urine and is generally removed one week later. Return to work can be expected at 1 to 1.5 months.
What are the side-effects of surgery?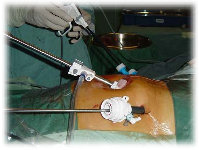 Dr Ho performing laparoscopic radical prostatectomy
Prostate gland containing cancer, completely removed by laparoscopic prostatectomy


Laparoscopy services
Kidney cyst surgery

Pyeloplasty for congenital PUJO

Ureter reimplantation surgery

Ureter stone surgery

Adrenal surgery

Augmentation cystoplasty surgery
Updated 21 June 09
Laparoscopic Radical Prostatectomy by Dr Ho Siew Hong on a patient with early prostate cancer


Laparoscopy services
Kidney cyst surgery

Pyeloplasty for congenital PUJO

Ureter reimplantation surgery

Ureter stone surgery

Adrenal surgery

Augmentation cystoplasty surgery