Treatment for Varicocele
S H HO UROLOGY AND LAPAROSCOPY CENTRE
Treatment Options
Our centre offers the following treatment options for correction of varicocele:
Complications are uncommon and include wound infection (5%), bleeding leading to hematoma (5%), testicular artery injury (1%) and hydrocele formation (1-5%). Improvement in sperm counts of between 50-70% can be seen after 3 months. Pregnancy rates are between 10-20%.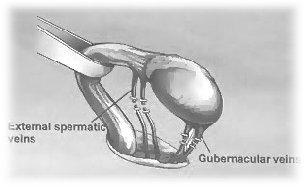 Laparoscopic varicocelectomy incisions
Open varicocelectomy incision





Men's Health Services

Varicocele veins identified
Varicocele veins ligated with metal clips
Updated 21 June 09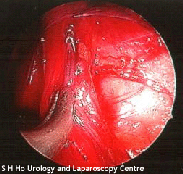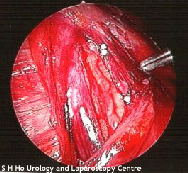 pain
Adolescent
subfertile




This procedure is done as a day surgery. Pain from the surgical wound is minimal and can usually be controlled with tablet painkillers. Return to work is expected within 2-3 days.


Laparoscopy services
Kidney cyst surgery

Pyeloplasty for congenital PUJO

Ureter reimplantation surgery

Ureter stone surgery
Varicocele surgery
Adrenal surgery

Augmentation cystoplasty surgery