There various causes of erectile dysfunction. We attempt to elicit the cause and provide targeted therapy such as medical therapy (pills), injection of prostaglandin, vacuum devices and penile prosthesis. Sexual counseling is also available as psychological support is often necessary.
Evaluation and treatment of Erectile Dysfunction
Men's Health Services
The centre is aware of the rising need for specialised therapy in the area of men's health. We offer non-invasive evaluation, medical and surgical management of various condition affecting men's health.
Symptoms of sexually transmitted diseases may sometimes be not apparent and delay in treatment would result in more complications. Amongst the area that we offer care are gonorrhea, syphilis, chlamydia, herpes and penile wart infections.
Evaluation and treament of Sexually Transmitted Diseases
Evaluation and treatment of Male Sub Fertility
S H HO UROLOGY AND LAPAROSCOPY CENTRE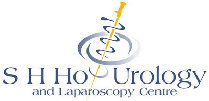 Men's Health Services

Updated 3 Oct 09