Vasovasostomy anastomosis
Vasectomy reversal completed
Vasectomy reversal suturing
Vasectomy reversal preparation
Vasectomy reversal incision
Reversal of vasectomy
Following vasectomy reversal surgery, a patient may resume light duties 2-3 days after the procedure. No intercourse or ejaculation is allowed for at least 4 weeks. Semen analysis can be done at 1, 3 and 6 months after surgery to determine success.
Updated 8 Nov 09








Urology Services



Vasectomy Reversal
Vasectomy reversal surgery is done under general anesthesia as a day surgery procedure. The entire procedure is performed using microsurgical techniques and a high power operative microscope. Surgery may take between 2 – 4 hours. An incision is made in the scrotum; testes and both vas ends are identified and exposed. The two ends of the vas are brought together with at least two layers of very fine sutures to ensure a leak-proof joint.
Fluid from cut ends of the vas is inspected under a microscope during surgery, looking for the presence of sperm. Success rate of vasectomy reversal surgery is much higher if sperm is seen. If sperm is not seen initially, a cut is made further down the vas to inspect a fresh area. If sperm is still not seen, vasoepididymostomy surgery will be done. Vaso epididymostomy involves reattaching one end of the vas to the epididymis, which is located closer to the testis. It is a finer structure than the vas and requires greater surgical effort.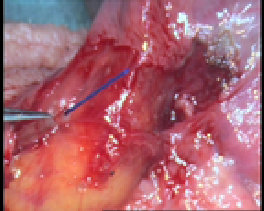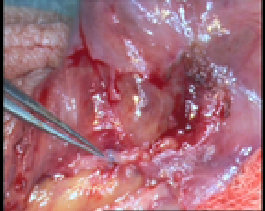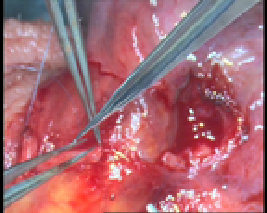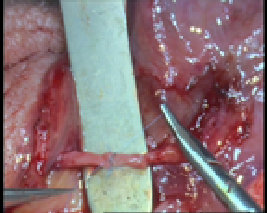 Ends of vas prepared, patency confirmed by passage of thich suture through the lumen
Ends of vas (testis end on left and penis end on right) brought together
Multiple fine stitches under microscope to create a tight joint line
A rejoined vas at the end of the procedure



Incision on scrotum to expose vas and testis on both sides



Vasectomy Reversal






S H HO UROLOGY AND LAPAROSCOPY CENTRE